Real Estate Development & Finance Resources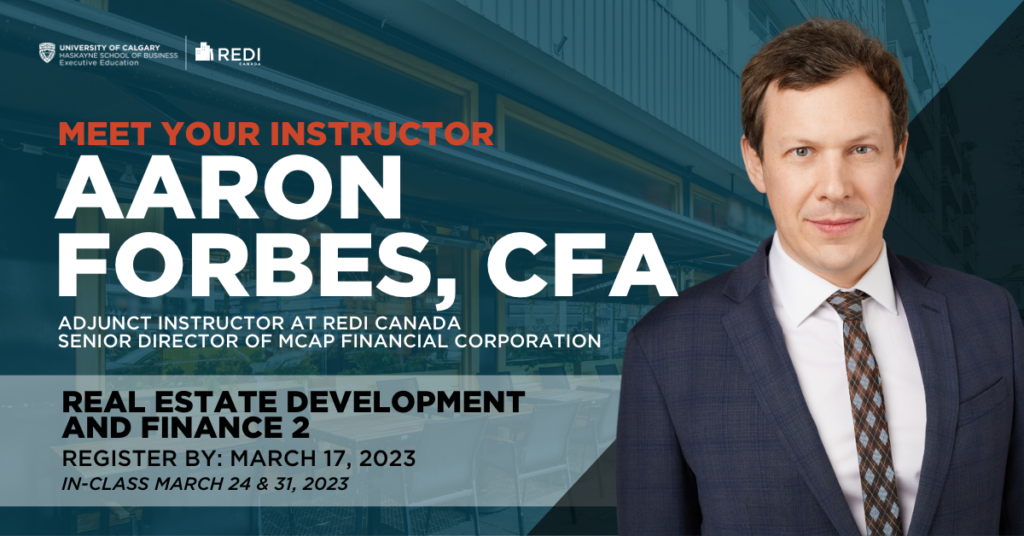 We spoke with REDI Canada Adjunct Instructor, Aaron Forbes, CFA, about the resources he uses to stay informed about local real estate development & finance.
Aaron Forbes, CFA, is a Senior Director of MCAP Financial Corporation and an independent board member & lending review committee chair at KV Mortgage Fund. Aaron instructs HSK 825: Real Estate Development and Finance 1 (March 24 & 31, 2023) and HSK 831: Real Estate Development and Finance 2 (September 19 & 26, 2023) offered in collaboration between REDI Canada and Haskayne School of Business at the University of Calgary.
Build your network. Explore industry associations & places to meet like-minded real estate professionals.
Mortgage Loans Association of Alberta ("MLAA"): They host a monthly luncheon with guest speakers from across the industry. Usually has a great cross section of lenders, developers, lawyers, quantity surveyors, and appraisers on the guest list.
Building Industry and Land Development Association, Calgary ("BILD Calgary"): This is the amalgamation of the Urban Development Institute (UDI) and the Canadian Home Builders Association (CHBA), created a few years ago. BILD meets monthly and usually has a great group of guest speakers. The association is builder-focused which makes it a great place for a lender to meet new borrowers!
Earls Tin Palace, Calgary: This has long been the place for real estate leaders in the city to get together and hash out deals. Best of all, no membership required!
Stay up-to-date on current market insights. Leverage access to digital resources, market updates, & podcasts.
Zonda Urban is a third party sales data provider, so a paid subscription service, but I have found their quarterly market updates to provide some of the best insights into the current market. The audience is a wide, diverse group from across the real estate spectrum.
The Real Estate News Exchange (RENX) is an online service that provides news, information and commentary about the Canadian built environment.
SkyriseCities is a website focusing on the skyscrapers, architecture, design, construction and development of urban centres around the world. Explore the Global page, or specific regions: Calgary, Edmonton, Vancouver, or Toronto.
Calgary Real Estate Podcast, hosted by Kimberley Poffenroth and Barb Richardson.
Calgary Real Estate Investing Podcast, hosted by Corey Peckford.
Consider these suggestions as you build a personalized toolkit of real estate development & finance resources that reflect your interests, goals, & local markets. Interested in learning more? Check out REDI Canada's upcoming courses that feature Aaron Forbes and fellow industry leaders.
HSK 831: Real Estate Development and Finance 2 starts March 24, 2023. Learn more or sign up through the University of Calgary Executive Education website.
Increase your professional confidence and achieve your real estate career objectives with REDI Canada. Choose from in-person or online course offerings.