Career Journey in Property Management: Amanda Blacktopp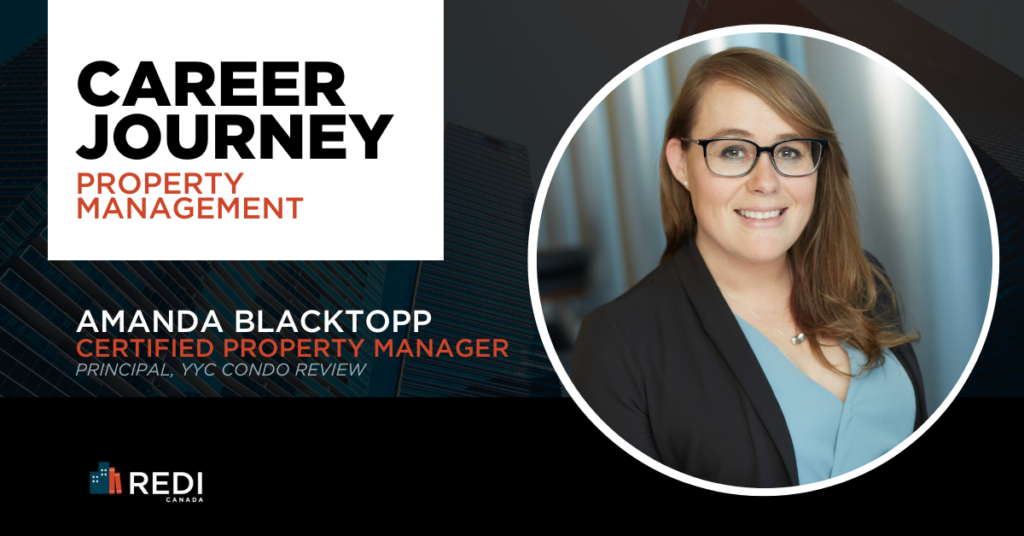 How did you get into property management?  
Amanda Blacktopp: When I was growing up, my grandmother was a realtor. She brought me to many open houses and shared with me her experience in residential real estate. Like most people, I thought that was the only real estate profession available. I knew I didn't want to be a realtor, so I went to post-secondary & then started a position in event management. After some time, I realized I did want a career in real estate but wasn't sure how to do that—or what it would be exactly. Eventually, I got my start in 2005 in condominium management and have been happily involved in real estate for over 15 years, in both Ontario and Alberta. 
How has your career in real estate evolved? What types of properties (and challenges) have you managed?
AB: My first position in real estate was assistant managing over 400 units with shared facilities and a long list of capital replacement items. In one year alone, elevators, chillers and zone valves were upgraded. This kind of start gave me a keen eye for deferred maintenance in buildings.  
In 2010, I moved to Alberta and my portfolio led had many challenges I hadn't faced before, including floods, hail and most importantly, post tensioned buildings! There are many challenges to post tensioned buildings in Alberta given the design and installation during boom times. I rely on engineers often for these types of buildings, seeking advice on how to proceed safely and economically.
Since 2014, I have been working primarily with commercial properties in all asset classes. I became a licensed Real Estate Professional in the practice of Property Management with the Real Estate Council of Alberta in 2015. Finally, in 2016, I reached the pinnacle designation in property management with my Certified Property Manager (CPM®) designation.
For the last 5 years, I have been operating a small business called YYC Condo Review. I review documents prior to removing conditions on purchasing a condominium. Similar to a home inspection, a condo review takes a peek at the financial status of the property. In this time, I have reviewed over 600 condominiums.
In 2023, I left traditional property management to explore the education side of our industry. Always a passion of mine, I am delighted to see the progress our industry has made in education.
What's a misconception you've encountered about real estate?
AB: Real estate is so much more than selling houses or commercial properties. Each day includes a wide range of activities and subjects: finance, physical building components, construction projects, design, interior finishes, tenant relations, lease interpretation & law.  I can name more than a handful of careers related to real estate that have nothing to do with selling property. It is time more people knew about these fulfilling positions and how to get started. Managing property has been the joy of my career; it is truly different & interesting every day. 
What's something you wish you'd known earlier in your career?
AB: I wish that I'd known the incredible value of professional communities, mentorship, and ongoing professional development sooner. When I was looking into real estate, no one knew where to look for advice; there was no blueprint for my career.  
Since then, my network has expanded exponentially since joining the Commerical Real Estate Women network in 2018. CREW Calgary has given me a platform on which to stand and share my ideas. As a former committee chairperson and now part of the CREW Board of Directors, I have seen many changes since my first year as a member. Diversity and inclusion being the forefront of our collective mission; our 2021 strategic plan was achieved quickly as we lead with humility & compassion.
In addition to my involvement with CREW, I wanted to expand on discussing the role of municipal policies in the industry. I became involved with BOMA Calgary and joined the BOMA Government Affairs committee which has been an exceptional outlet to share my thoughts about public safety, property taxes and building conversions.
I have been both a protégé and mentor in both BOMA and CREW, as well as having natural mentors throughout my career. Finding a natural mentor (someone not part of a mentorship program) is a bit of a struggle at times and requires vulnerability to create a long-term friendship. I am proud to report that my natural & assigned mentors/protege's and I continue to share industry news & work hard to maintain that connection.