Meet a REDL Alumn: Marc Tews, CPA
Read about how Marc's experience in the Real Estate Development Leadership certificate has contributed to his career trajectory in real estate development.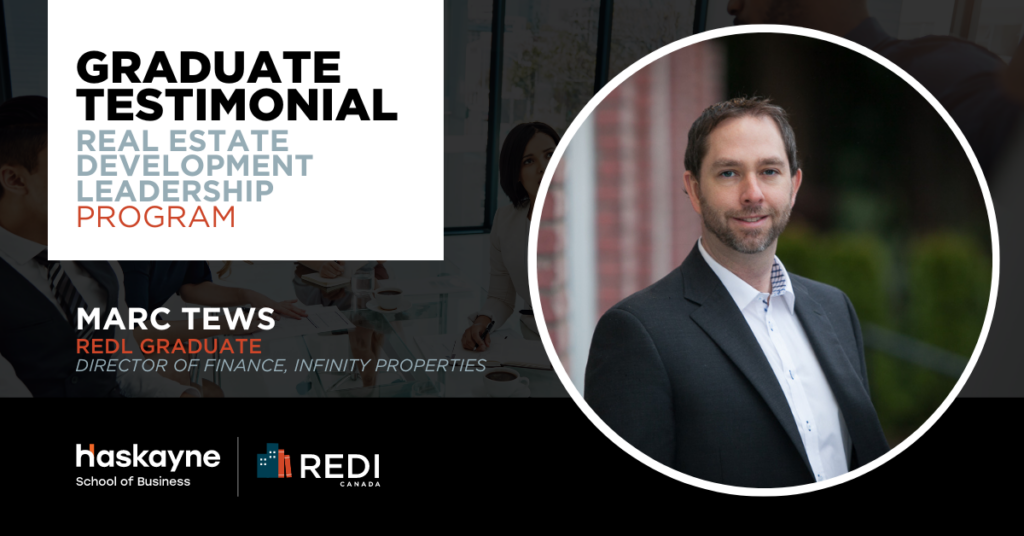 Marc, congratulations on recently completing the in-person Real Estate Development Leadership (REDL) certificate this spring! Tell us about yourself.
I'm a professional accountant (CPA) and have worked in real estate development accounting and finance for a few years.
Why did you choose to pursue the REDL certificate?
With my working experience in real estate development accounting and finance, I have had an increasing desire to learn more about the business. I have some rental properties in Calgary that I was also interested in developing in the future, so the REDL program made sense.
How has the REDL program supported your professional and personal goals?
The program has broadened my understanding of real estate development processes and the industry. It has benefitted me in both my employment and my desire to undertake a small project on my own. I've also created valuable industry connections with both course instructors and other attendees.
What did you find the most valuable aspect of the REDL certificate?
To me, the value of this program has been the instructors. They are professionals who are in the market and they lead from a place of rich experience. Honestly, I enjoyed them all, but my favourites were Emma MacKenzie (Marketing), Aaron Forbes (Finance) and Iain McCorkindale (Development Management).
Based on your experience in the courses, would you recommend it to colleagues?
Yes, I would highly recommend it to anyone entering the real estate development profession or anyone that's in the industry that wants to expand and round out their knowledge.
---
Thank you, Marc! We're thrilled to count you as a member of REDI Canada's learning alumni.
Interested in building your knowledge and network in real estate development? In-person REDL courses are open for registration through the Haskayne School of Business website.
Need support planning your next steps in real estate development & licensing? Send us your questions info@redicanada.org.