Meet the Instructor: Aaron Forbes
As REDI welcomes learners back to the immersive, in-person REDL program, we sit down with Aaron Forbes to discuss why finance is a critical competency for anyone seeking to transform their real estate development career—and how REDL participants can make the most of their learning journey with REDI Canada. Aaron Forbes (CFA) is the Senior Director of MCAP Financial Corp. and an independent board member & lending review committee chair at KV Mortgage Fund. Aaron is passing his expertise to learners in Real Estate Development and Finance 1, a course developed by REDI Canada and offered in collaboration with Haskayne School of Business.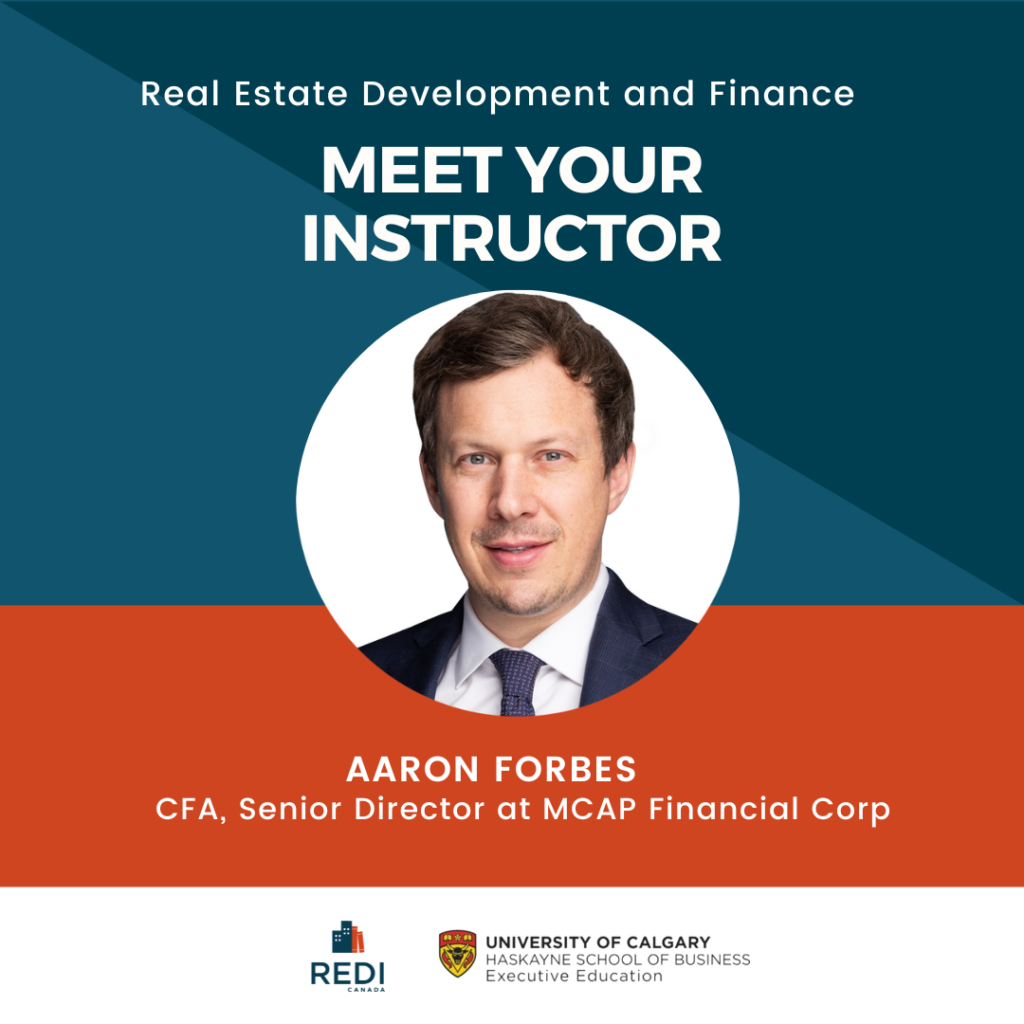 1. Aaron, tell us about yourself
Growing up I was always interested in business and so upon completion of high school, I applied to the University of Calgary and started on my Economics degree concentrating on behavioral and microeconomics. Continued curiosity ultimately led me to the Haskayne School of Business where I majored in finance. Upon starting my career, I wanted to augment work with continual learning, so I commenced the CFA program, earning the charter in 2013. The CFA program brought together a lot of the various concepts I'd learned in university tying them all together into a comprehensive program.
As for teaching, you could say I came by it honestly as my grandmother taught me Grade One and my mother was my high school Vice Principal and chemistry teacher. That said, I've enjoyed training new hires at MCAP, so I thought being an instructor would be a natural fit and something I'd enjoy, and jumped at the opportunity when it came along. I've been an Adjunct Instructor with REDI Canada since 2020, instructing both Real Estate Development and Finance 1 and 2 each academic year since then.
2. The REDL course format has changed, with a new two-day learning format, complete with a site visit and virtual project presentations. What will an instructional day look like for learners of Real Estate Development and Finance 1 (HSK 825) in 2022?
I think the revised format will actually allow for a more tailored learning experience providing me the flexibility to adjust the delivery of the material as learner engagement naturally ebbs and flows over the course of the day. I also really like the idea of a full dedicated day for each class as this will make for a highly concentrated learning experience without distraction. Following that, I'm also really excited to teach during the day, as opposed to the previous evening format. There'll be different energy from previous classes and I think there'll be more engagement as a result which will fuel in-class discussions.
On the structure side of things, the revised format is naturally going to be a little more fast-paced, but I think with pre-work and the additional class hours it will be manageable for learners of all levels.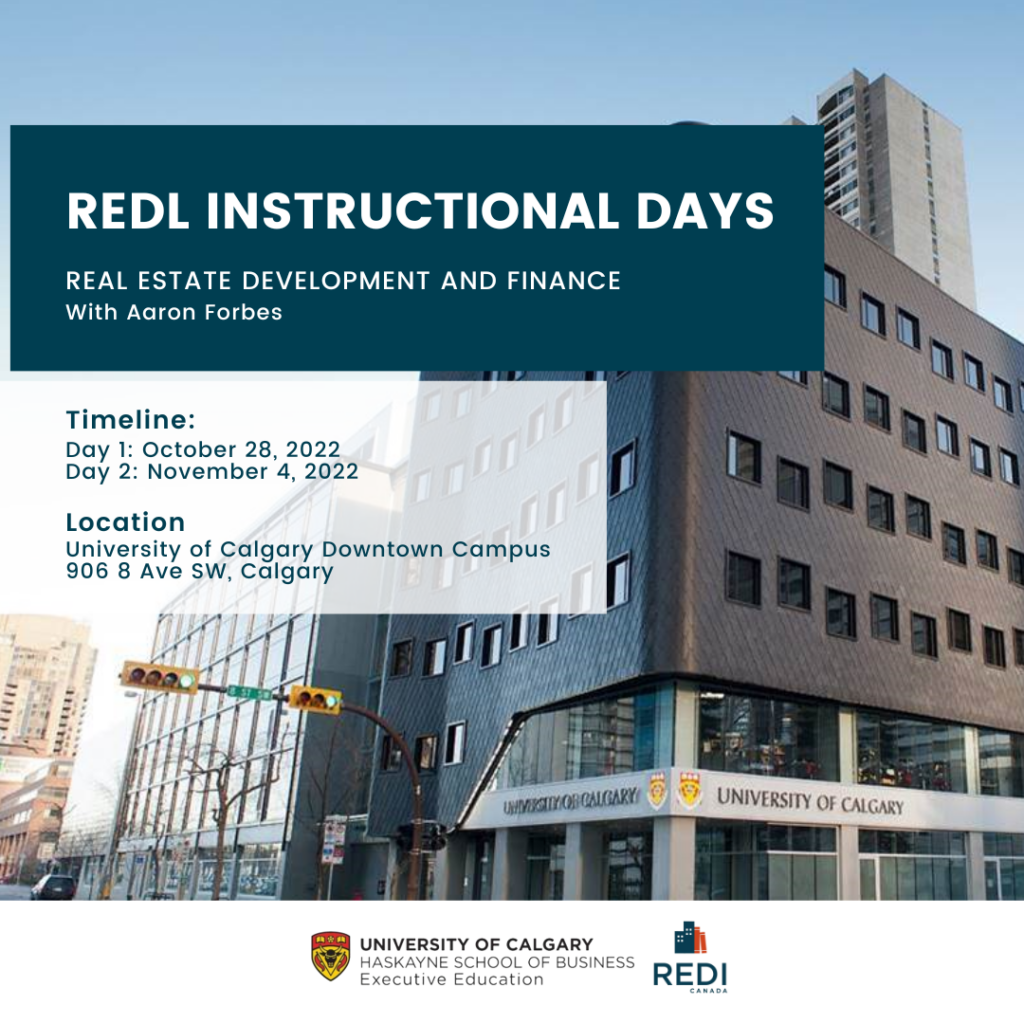 3. What would you say to a learner who might be new to finance, let alone real estate development finance? What's the biggest misconception you encounter with learners in this course?
I think a lot of people are naturally apprehensive about finance classes thinking there's going to be a lot of math involved and that the course likely has little to no value to people not working in the field of finance directly. While I can understand that view, I've always tried to take a broader approach and, to me, the course is really about understanding and assessing risk which is a pretty universal topic to most people and organizations. Ideally, learners will be able to assess the risk of a potential real estate development, make suggestions to mitigate risk, and come to understand why some projects attract financing and others don't. The math is really secondary to that.
4. Some folks might be more familiar with aspects of personal finance. How would you describe the differences between personal finance and real estate development finance?
Personal finance and real estate development finance are certainly related. Real estate finance predominately deals with mortgages which many people are likely familiar with or possibly even have one of their own. Cashflow is also a common topic to both and is central to evaluating a real estate development. I think learners with a background in personal finance will certainly find some commonality and perhaps this course will add to their understanding of personal finance, while also providing some background in real estate finance.
5. What's one success you're most proud of looking back at your previous years instructing in the REDL program?
Since I started instructing in 2020, I've been extremely impressed with the final projects presented by the learners at the end of this course. Given learners likely started the course 6 weeks prior to their final presentation (under the old format), I was constantly surprised by the quality of the presentations and comprehension shown given we only started learning together 6 weeks prior. I think it's a reflection of learners connecting with the material and that's the 'win' for me.
6. The Covid-19 pandemic has thrown some unique combinations of virtual, hybrid, and in-person work and learning environments at everyone. With that in mind, how would you recommend learners prepare to return to a fully in-person, immersive learning experience?
I've taught this course both online, and in-person, and as a hybrid of the two options. I think it's fair to say that the in-person experience is superior for both myself and you as learners. Being able to see everyone's reactions to the material provides me with a lot of feedback as to whether a concept is landing or not and whether I should spend more time on it before moving on. I also find the in-person discussions are more lively and free-flowing, allowing learners to bounce ideas off me and each other much more freely.
To prepare for this in-person class, I would suggest learners try to come in with an open mind, a positive attitude, and most importantly a desire to learn the material and engage in discussions.
Ready to elevate your real estate development career? Learn more about the REDL program on the Haskayne School of Business website or check out REDI Canada's other program offerings at redicanada.org.