Meet the Instructor: Mark Seasons
This series introduces you to REDI's adjunct instructors who teach Real Estate Development Leadership (REDL) courses offered in collaboration with the Haskayne School of Business. Mark Seasons is instructing for the first time with REDI Canada this year, drawing on his wealth of experience as a professional planner and professor at the University of Waterloo's School of Planning. HSK 824: Real Estate Development & the Planning Process starts November 14, with in-person instruction on November 21 & 22, 2022.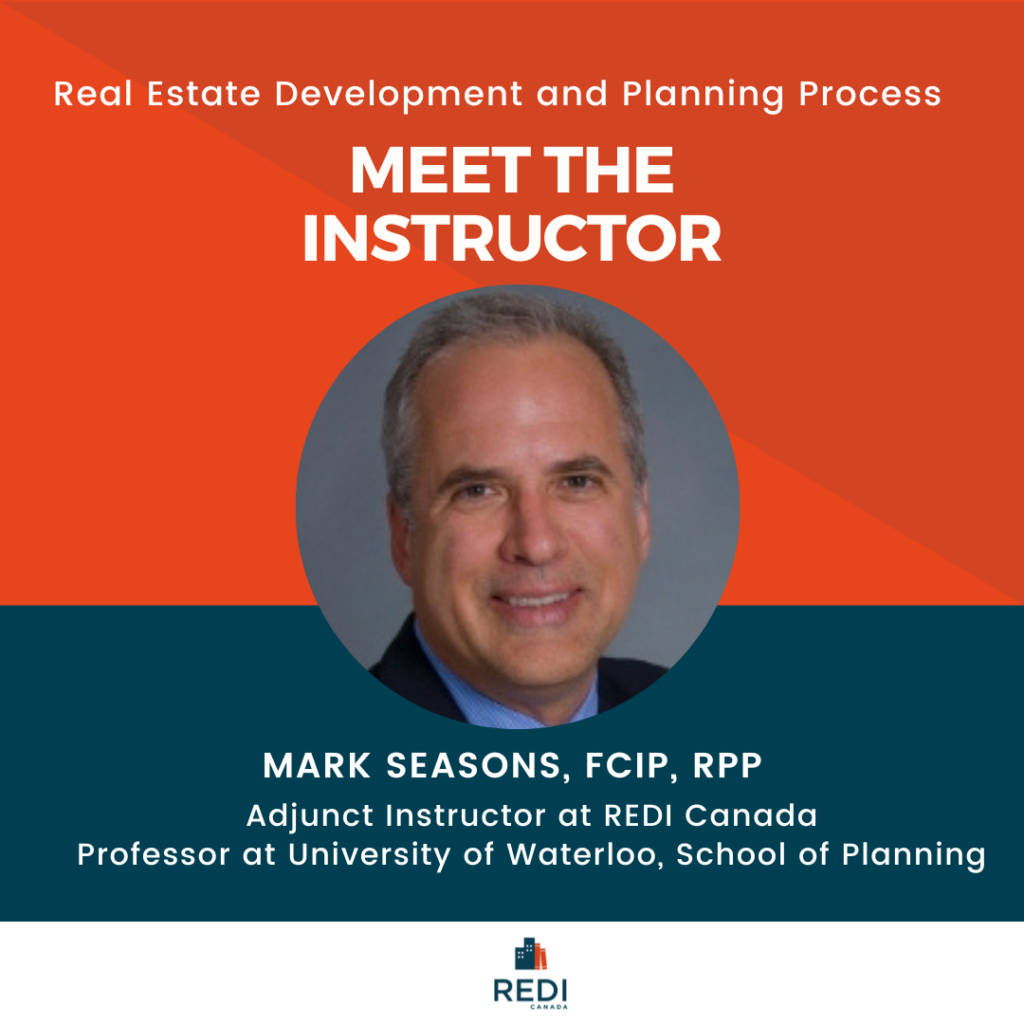 What interests you most about the opportunity to instruct through the Real Estate Development Leadership (REDL) program?
I see this course, and the REDI Canada model generally, as an opportunity for me to help build capacity for non-planners who need to know how to navigate the planning system. It's also a great opportunity for mutual learning. Through conversations with my real estate development colleagues, I can learn about their world, and then reflect on what it all means for planning.
Can you describe the types of common misconceptions that someone new to planning might encounter as they dive into real estate development?
No question, there are lots of opinions about planners and some of them are not too flattering! For example, we hear about how planners and their processes get in the way and how they obstruct rather than facilitate. The thing to remember is that planners work within prescribed legal frameworks, so they must comply with the laws and policies of the day.
Planners also work in multi-stakeholder, decision-making environments with multiple "publics" where there are opportunities for meaningful consultation and perspectives. We report to Councils that have their own perspectives and final decision-making authority. We also operate in a world of compromises and trade-offs on most things. Perhaps most importantly, planners also have an obligation to focus on the public good or public interest, rather than individual interests (e.g., developers). So, there's a real need to educate and orient people to what the planner, and the planning system, can and cannot achieve in this rather complex environment.
Why is the planning process important for someone who is new to real estate development or seeking to grow their career or secure a promotion in real estate development? 
I think this course will not only explain how planners and the planning system operate, but why. It will explain the reasons for what might seem rather opaque rules and regulations. Real estate development professionals need to understand the broader context within which planning decisions are made, the factors that planners have to consider, and the roles and powers of planning policies and tools (e.g., zoning). They, and their clients and investors, need the best possible, fully-informed advice. With that knowledge, decision-makers will understand what's possible (or prohibited) for their property or project and that is very valuable information. I also feel that planners would benefit from real estate development colleagues' experiences with on-the-ground impacts of plans and policies like what is working (or not), and what should be done about it.

What's a piece of advice you look forward to discussing with HSK 824 participants? 
I think we have a tendency to do what we're told and taught, about expected roles and ways of seeing the world when on the job. While we might master how things are done at our workplace, we often lose sight of the "big picture". We should know what's happening out there, and what it all might mean for how we do our jobs. So, I would say it's about acquiring the courage and confidence to challenge (in a constructive, positive manner) the conventional, accepted wisdom. I think that comes with maturity and experience.
As an experienced and well-respected professor, how do you like to keep course content and experience engaging for learners? 
That's a great question! Here's what I think about when designing my courses. Would this material interest me if I were on the receiving end? What's the best way to get the learner's attention? I ask myself these questions because I've found that people learn best when they're engaged and focused. And that means that instructors really need to understand the audience and think about what they need to know and how best to reach them. So, course design and delivery has to be tailored to the audience. You can't convey the content if you can't "hold the room"!
This is your first time teaching with REDI Canada—what are you most looking forward to?  
Interestingly, I've developed planning policy and worked to implement urban plans, but I've not worked directly with real estate development professionals before (e.g., reviewing development proposals). So, this will be a great opportunity for me to see the world through their eyes, and to think about whether and how the planning system could be improved with their perspectives.
What can learners expect from their course with you?
My objective is to introduce my real estate development professional colleagues to the planning system. I want course participants to leave the course with an enhanced and more complete understanding of why things happen as they seem to in the planning world. I want to reduce confusion and misunderstandings about what happens and why in planning. This way, real estate development professionals will be in a better position to explain the broader context for clients and investors, and to make better-informed decisions about projects.
Interested in starting your journey with REDI Canada?
Registration for in-person REDL courses, offered through the University of Calgary's Haskayne School of Business, is open now. Check out upcoming courses through the Executive Education website. Or, visit redicanada.org to find the right program and courses for your career goals.