Proptech & Marketing: meet your instructor, Jason Hardy.
Jason Hardy is the Co-Founder & CEO of leading real estate e-commerce software, Ownly, and President and Chairman of Chatterson, a boutique real estate marketing firm headquartered in Calgary, Alberta.
Jason instructs two REDL certificate courses: Proptech: The Future of Real Estate (February 5 and 6, 2024) and Real Estate Marketing (April 22 and 23, 2024). Jason also holds the position of Director of the Real Estate Development Institute of Canada and instructs through the Haskayne School of Business's Real Estate MBA and BComm programs at the University of Calgary within the Westman Centre for Real Estate Studies.
This interview is adapted from Canada's Podcast: Revolutionizing the way you sell homes.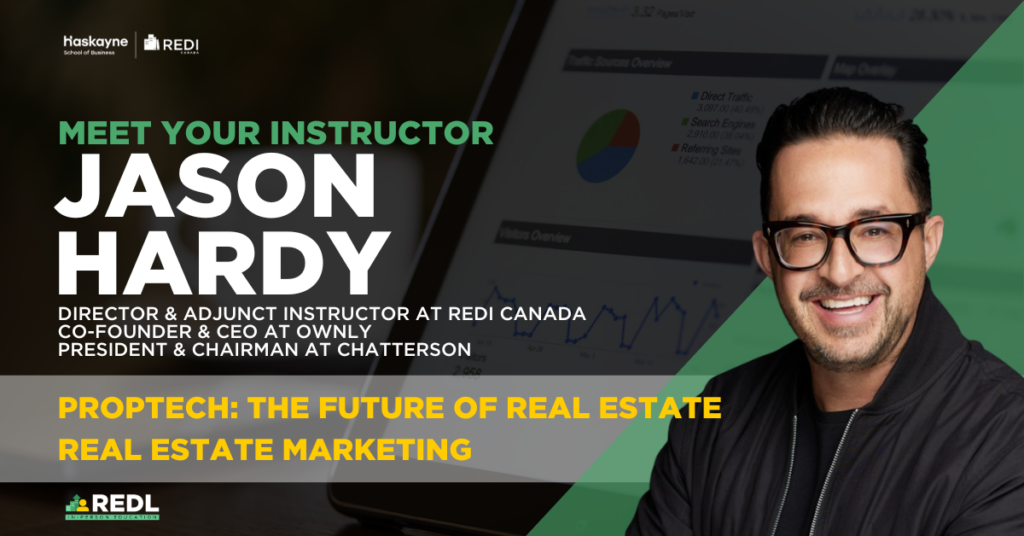 ---
REDI: How did you become interested in real estate?
About 24 years ago, I was coming back from working for the Walt Disney Company in Orlando, Florida. I was originally from Hamilton, Ontario, and I had a friend I met at Disney who said you should really come to Calgary. It's the next great city in the country. I had nowhere else to be, so I thought, sure, I'll give it a shot. I moved to Calgary and was blown away by the entrepreneurial spirit and fire in this city and the amazing people. I met some incredible mentors who became very close friends later in life who extended a helping hand to me when I'd first moved to Calgary. One was Jim Button from Village Brewery (deceased), and the other was Jim Dewald from Hopewell Residential, two amazing Calgarians.
Once I was in Calgary, I was hired by a local real estate marketing agency, called Applied Communications, started by local entrepreneur Dan McWilliam, a passionate Calgary businessman and marketing maverick. I went to work as a junior marketing coordinator and managed a small portfolio of resorts and private community customers in the United States. I fell in love with Real estate. I fell in love with the fact that they're not making any more land. Most of these master plan community projects would take 20-30 years to be built. We were working on these projects for years and it was all about building relationships more than building real estate. I became very passionate and enamoured with the real estate process.
At the start of my career, I didn't know much about real estate. I joined two organizations that changed things for me. The first was the Urban Land Institute, based out of Washington DC. The other was the Canadian Home Builders Association. These organizations helped me realize that I wanted to stay in this industry for the rest of my career.
REDI: More specifically, how did you find yourself leading a proptech company?
I've spent the past 22 years serving the home building and land development industry. I feel like I spent an entire career watching the real estate industry continue to do what it does. If anyone knows anything about real estate, it's a pretty old school industry. Pretty set in its ways. The tools used today are, in a large part, the same tools that were used 30 and 40 years ago. We saw an incredible opportunity to invoke much needed change.
Real estate is truly the last B to C industry to digitize the buying process. We saw an opportunity to remove friction and create a seamless experience so that sellers could meet customers where they wanted to be. Removing doubt for buyers and sellers became our obsession at Ownly.
Ninety percent of buyers that are looking for homes today start their search online. It was inevitable that more of these buying tools and buying decisions would start to happen online. This leads to a more enjoyable in-person experience for the seller, so they can really focus on building a relationship and leave the administration and paperwork to a web-based application like Ownly.
REDI: Where did the idea for Ownly come from?
The process is interesting. A lot of the inspiration from the real estate industry comes from a similar industry which is the automotive industry–both very expensive, high value purchase decisions.
The automotive industry was allowing consumers the ability to shop online 20 years ago. And so, I went through this process several years ago, but I hadn't purchased a new car for about 13-14 years. It was time, after years of living in Alberta, I needed to own a pickup truck. Being the first new car I'd purchased in a long, long time, I went online onto a website, I built and priced that truck in about 30 minutes. The website told me the dealership that had that vehicle, it told me the exact price, I printed the spec sheet and made my way to the dealership to buy it. 2 days later and 30 minutes with a sales person, I drove away with my new truck. This whole experience of buying that vehicle predominately online was mesmerizing to me.
And when I told everyone in the office, they laughed, that this has been around for years. It made me instantly realize, if you can build and price a car online, why shouldn't we as consumers be able to do the same thing with a home? That was the infancy of the idea for Ownly.
REDI: Tell us a bit more, what is Ownly?
Ownly is 2.5 year old proptech company. It was formed in January of 2021 and we started 6 months before that with our MVP (minimum viable product) for the technology. Once we realized we were onto something, we formalized the company.
We've been compared to the "Shopify" for real estate. We work with agents, brokers, builders, developers, new home salespeople, and property management companies in both the for-sale and rental markets. Ownly allows them to actually get consumers off the market and into their sales pipeline faster by removing friction.
We remove doubt from the buying process by helping customers transact more of the real estate process online. When you remove doubt you create confidence. It doesn't matter if you're buying your first house or your fifth home. It's still a process that is wrought with doubt. People are unsure of what they can afford. A lot of people are scared of getting that mortgage pre-approval. Lots of people start without the confidence of knowing what they can afford.
We have two main products within our technology. One is our buyer verification platform. It allows consumers and buyers to have a seamless experience and discover their buying power all in under 3 minutes without going through the mortgage pre-approval process. Ownly allows consumers the ability to understand what they can afford. The second tool allows the consumer to take a home off the internet, add it to their digital shopping cart, place a deposit, and sign a reservation agreement all within just a few minutes completely online.
We have customers all over Alberta, British Columbia, Georgia, Texas, and Florida. Have had over 100,000 users in the first year and a half that we've been live. We're quickly expanding into the US market. We're looking forward to bringing on many US customers.
REDI: What can learners expect from your upcoming in-person course: Proptech: The Future of Real Estate (Feb 5 & 6, 2024).
Our inaugural Proptech course is going to be incredible as I have been living and breathing the world of proptech as a start-up founder for the past 3 years now.
This course explores how technology is changing the world of real estate and the startup journey of the founder in their quest to disrupt a market ripe for change. Students will learn about companies who have succeeded and the many that have failed by discussing the choices they made that impacted their desired outcomes and objectives. The course includes perspectives from founders, venture capitalists, private equity and the real estate companies who ultimately choose to leverage these technologies to drive change. Students will learn the steps required to take a proptech solution from proof of concept, to minimum viable product, to a scalable, repeatable model all while examining the opportunities and pitfalls founders and their teams face along the way. Class assignments include case studies, investor pitch decks and go-to market strategies.
Tell us what learners can expect for your upcoming course: Real Estate Marketing (Apr 22 & 23, 2024).
The real estate marketing course will be a condensed version of my MBA and BComm programs. In this year's real estate marketing course, students learn how to bring a real estate project to life from concept to completion leveraging research intelligence, strategy, storytelling and sales/lease-up programs. We touch on virtually every asset class within the real estate sector and bring in some powerhouse guest lecturers who are senior leaders from across the development industry. The course assignment requires students to work with a team to build a go-to market strategy for a real-life real estate development project and present it to the developer.
Both courses are going to provide exceptional content and learnings and will include guest lectures from some of the most recognized and respected leaders from the real estate industry.
---
Learn more about Jason's courses offered through the Real Estate Development Leadership certificate delivered in collaboration with Haskayne School of Business here.