Warmly Welcoming Candace Cooper to the REDI Faculty!
We are thrilled to announce the newest addition to our esteemed faculty, Candace Cooper! As an expert in commercial real estate law, Candace brings a wealth of knowledge and experience to our HSK 827: Real Estate Law course, September 21 & 22, 2023. Her expertise is invaluable, and we couldn't be more excited to have her on board as an instructor.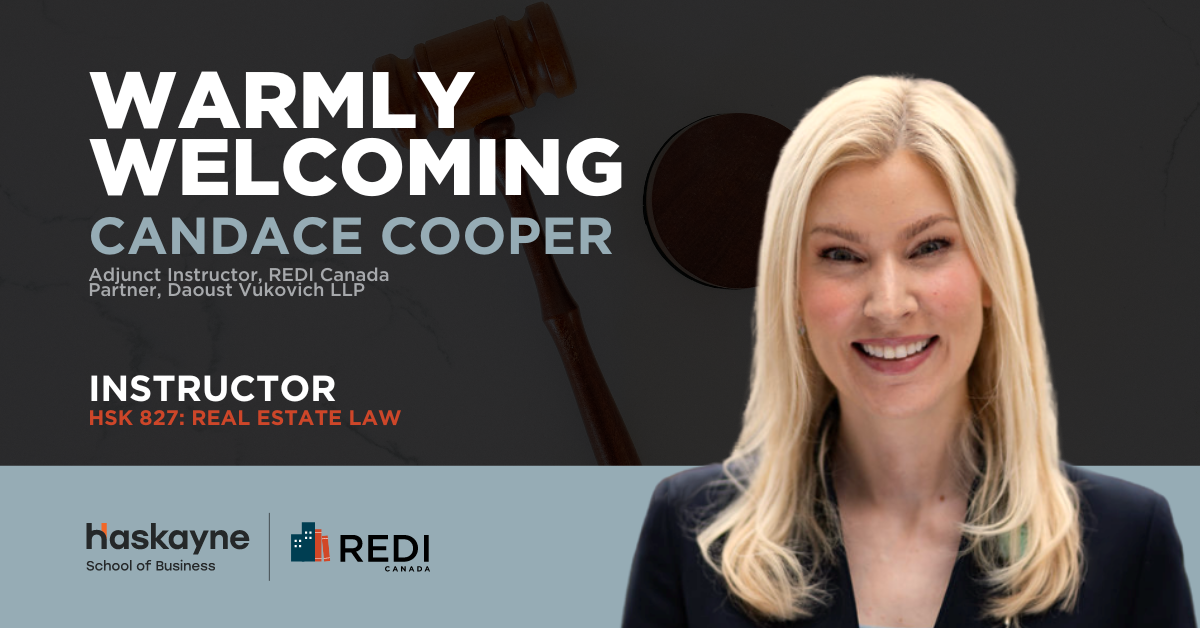 Candace is a partner and the practice lead of the renowned Daoust Vukovich LLP commercial real estate department. Daoust Vukovich LLP is widely recognized as one of Canada's top law firms in the realm of commercial property, leasing, and development. In her expansive career, Candace has honed her skills across various facets of commercial real estate law. From acquisitions and dispositions to financing and land development, she possesses a comprehensive understanding of the field. Her clients range from entrepreneurial and institutional land developers to construction companies, commercial landlords, property managers, space users, and commercial tenants. This diverse portfolio speaks volumes about her ability to navigate the complex landscape of commercial real estate law with finesse!
We took some time to sit down with Candace to get to know her better and what we can expect from her upcoming course, Real Estate Law.
---
REDI: How did you get into real estate law? 
It was the happiest of accidents. As part of the legal licensing process in Ontario, following law school (generally speaking), potential lawyers must complete a ten-month articling position, which is a placement at a law firm as a "student-at-law". I articled at a full-service firm on Bay Street, without knowing much about the practice of law other than the theoretical stuff you learn in law school. After sampling many different practice areas over those ten months, I was hired back into the commercial real estate group as a lawyer, and the rest is history. The work is tangible, team-based, fast-paced with many moving parts, and there is always something new to learn. No property is the same, and no client is the same. I can't imagine practicing any other area of law.
REDI: What attracted you to the opportunity to instruct with REDI Canada + the Haskayne School of Business?  
I have always enjoyed mentoring and teaching, so when a client of our firm mentioned the REDI Canada course to me – I jumped at the chance to teach. I was impressed by the practicality of the course and the remarkable but welcoming REDI team.
REDI: Why is real estate law important for someone who is seeking to grow their career in real estate development?    
Having familiarity with the legal framework around property development in Canada will assist those new to real estate development by demystifying legal concepts. This helps individuals who might work with external lawyers or an in-house legal team do so with a great foundation of the concepts lawyers are already familiar with.  For those who have their own established areas of expertise, my aim is to help them anticipate the "how" something can be done and "why" it is done that way.    
REDI: What types of misconceptions, if any, do folks have about real estate law?   
That just because it is a very historical area of law (many of our real estate legal concepts in Canada can be traced back to feudal England and earlier) that it is boring or hard to understand. So much of the law is rooted in fairness and has developed with a view to promoting predictability in business dealings. Real estate development is, at its foundation (pun intended), community building, and Canadian law was shaped on the presumption that land is "special" too.
REDI: What can learners expect from their (in-person) course with you?
I hope to make real estate law easy to understand by drawing on my experiences to apply it to real-life scenarios. We will also hear from other professionals in real estate about how the law shapes their decisions in the course of their development projects. I hope everyone ends up with the same enthusiasm for real estate law as I have!
---
If you're ready to embark on a transformative journey in real estate law, we invite you to enrol in our HSK 827: Real Estate Law course, guided by the exceptional expertise of Candace Cooper.