Meet the Instructor: John Fisher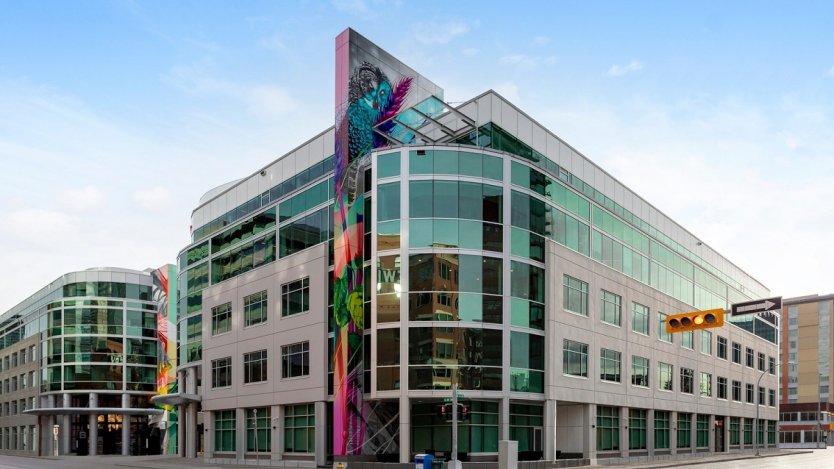 This series introduces you to REDI's adjunct instructors who teach Real Estate Development Leadership (REDL) courses offered in collaboration with the Haskayne School of Business.
John Fisher is instructing for the eleventh time with REDI Canada this year, drawing on 18 years of experience as a leader in commercial real estate in Canada. John is the Executive Vice President, Advisory & Transaction Services at CBRE based in Calgary, teaches real estate investment for the Haskayne School of Business MBA program, is a board member of the largest commercial real estate development association in North America, NAIOP. Further, John is an advisor to The City of Calgary, Calgary Economic Development, The Calgary Stampede, The Westman Centre for Real Estate Studies and a variety of private real estate firms, associations, and corporations.
HSK 830: Commercial Real Estate Development starts February 21, with in-person instruction on February 27 and 28, 2023, at the University of Calgary main campus.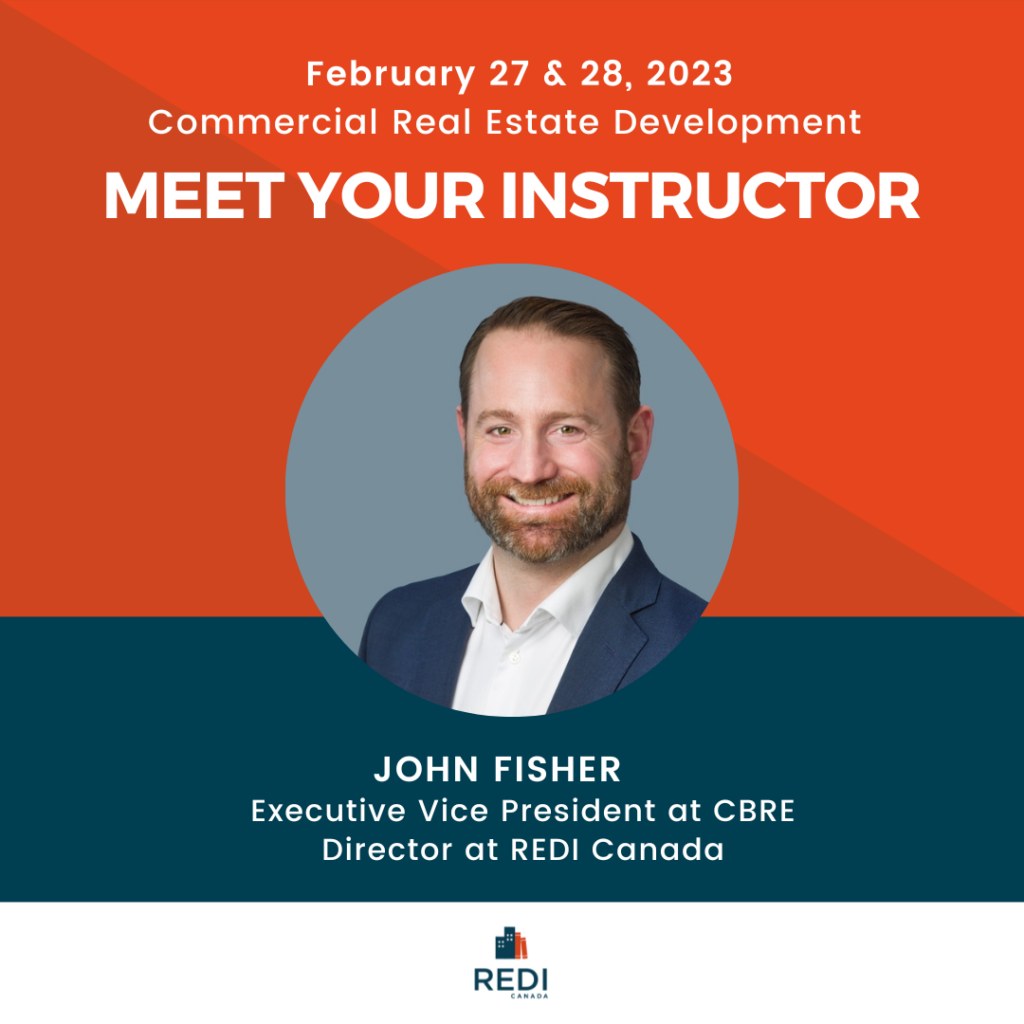 You've taught with REDI Canada since 2012. What keeps you coming back?
The student experience. Year over year, it's amazing to meet folks from different walks of life who are all passionate about commercial real estate and looking to take their CRE knowledge to the next level. My goal is to help learners get to where they want to go, providing them with real world tools and tactics to grow their careers, find opportunities and succeed in the commercial real estate development industry.
What's one success you're most proud of looking back at your previous years instructing in the REDL program?
Helping students realize their goals. When I run into a past REDL learner or certificate graduate at a cocktail night or industry event I get to hear how their career journey is progressing. It's gratifying to receive their thanks for the role my course played in helping them get to where they are today but even more gratifying when they share how their experience in the course or with a particular assignment spurred them to find that next opportunity. A great example is a past REDL participant, Sonya, whose experience with the commercial course, in particular, prompted her to switch industries to commercial real estate mid-career and, continue with a post-graduate program in real estate at Columbia. It's rewarding to see the industry grow, incorporate new, diverse perspectives and the professional expertise of folks entering real estate from a wide range of other careers.
Lots of energy. We'll cover a range of commercial real estate topics, customized to the interests and professional expertise of the class participants. Of course, we'll cover the critical topics to be successful in commercial real estate, and reinforce these areas with real life examples and projects. It's not theoretical. We'll look at projects folks may recognize from across Alberta.
As a key part of REDI's Best in Class learning experience, who are you featuring as guest speakers in this course?
To supplement my expertise in office commercial development, we'll have senior leaders from leading developers in Western Canada to contribute their perspectives from the industrial and retail areas of CRE:
Jorden Dawson, Vice President, Industrial Development, at Beedie
Jacob Weber, Senior Vice President – Development, at Royop
What's the biggest misconception you encounter with learners in this course or folks seeking to start or grow in the CRE space?
The most common misconceptions are 1, that it's too hard to get into the commercial real estate industry. And, 2, that there's limited opportunity because of tough markets. I'd challenge these notions.
Firstly, the industry has never been more receptive to new ideas and diverse perspectives. Since the pandemic arrived, the commercial real estate has been flipped on its head and industry stakeholders are adapting to state of continual change. This provides an immense opportunity not only for entering the industry but also for finding new development opportunities.
Secondly, there really is not a limitation due to market conditions. There is money to be made in real estate development in nearly every market condition, so long as you have a true understanding of market forces and can analyze them to gain insight, develop strategy and take advantage of that market.
Why is this course helpful for someone midway through their real estate career?
This course will fill in the blanks for folks by providing a holistic approach to developing—and selling—a project. Often times, once we've gained some professional experience, we become experts in aspects of the development process. For example, maybe someone will know site selection exceptionally well, but have a gap in their knowledge of marketing or conducting market research.
Learners with some industry experience will find that this course connects the dots. And learners who are looking to enter the industry will gain from both opportunities to learn from real world examples, but also the varied perspectives of other participants in the classroom.
As someone who hires in the CRE industry, what are you looking for among future candidates? Or, put another way, what has helped you throughout your career?
Success in any career comes down to finding where your passions and professional opportunities intersect. Do you get excited looking at new buildings or retrofits? Are you always on the lookout for underused land or buildings? If this sounds like you, then you are likely to excel in the real estate industry. For me, demonstrating the passion for the product is the best base-line, followed by the propensity to build or possess core skills, creates the ideal job candidate.
Interested in starting your journey with REDI Canada?
Register for this course or other Real Estate Development Leadership (REDL) courses now through the Executive Education website. Or, visit redicanada.org to find the right program and courses for your career goals.